Barbie Kelly amp; Friends Grease
AP_piano295
May 4, 10:19 PM
While I'm with you on the speeding, let's take a look at deaths caused by automobiles.

44,128 [2007 WISQARS (http://webappa.cdc.gov/sasweb/ncipc/mortrate10_sy.html)]

So for every 4 people that die due to motor vehicles, 3 die due to firearms.

Did you know that?

It's especially frightening when you consider the utility motor vehicles bring to our lives. They not only get us to work, they deliver our goods across the country. Motor vehicles are an integral part of our everyday lives. They get us to the grocery store, the soccer field and haul massive amounts of material across the nation.

Guns, if stored properly, sit locked away in a cabinet, rarely seeing the light of day.

Yet they kill nearly as many people as all motor vehicles.

Is that insane?

Yeah. That's what I've been trying to tell you.

Exactly, so it is very reasonable for a pediatrician to be concerned and endeavor to remind parent's that they need to take steps.
---
Sandy in Grease, Finale
No, my point was to scale it back to what it was before 9/11 and maintain both domestic and international security at the pre 9/11 level of international security.

Before 9/11 I could walk right to my gate in several major airports.
---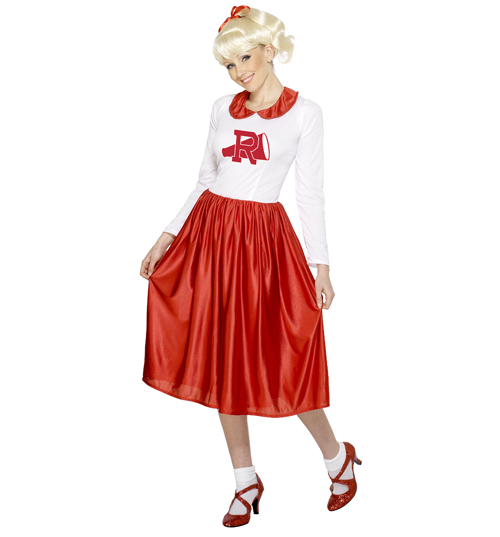 Sandy Grease Fancy Dress
well guys i might be getting back up there soon. the last couple of days i've been working on my home built system, and i had it stable folding at 3.8 ghz. of course i got greedy, and am currently trying to manage 4.0 ghz. but right now heat is in the way, and i might have to take it back down a notch. we'll see
---
Sandy from Grease Wig
umm my computer from 2004 could run Windows 8 (slowly but it could) because it does have a 64 bit processor in it. I also believe W8 is going to be 64 bit only. W7 was the last 32 bit OS.

As it should at this point, 64bit processors have been out long enough that this shouldn't be a problem.

Those people who still have 32bit processors are generally not the type of people who will be upgrading to w8 anyways.
---
more...
Sandy from Grease Wig
Some of it is copying, but it's good for consumers. The program packaging is because Microsoft is planning to release an App Store for Windows.

I'm just glad Microsoft is focusing on consumer features in their operating system instead of just enterprise features. I hope they revamp Media Center with the Windows Phone UI and ditch Windows Media Player all together in favor of the Zune software (or turn WMP into a QuickLook-like application).

As for Lion, I expect Apple is holding back some major features for WWDC. While Versions, AirDrop, Mission Control and Launchpad are all "tentpole" user features, there has to be more coming. I want desperately for Apple to create some type of iTunes sharing process so that iTunes doesn't have to run constantly to stream to home sharing devices. And why isn't AirPlay built into QuickTime X in Lion?
---
Sandy (from Grease) P/S
iOS v Android
May 3, 02:04 PM
Why is it that Google always touts how open is so good, then they realize that, oh, guess we should tighten things up a bit, maybe being too open is not such a good thing.

this has nothing to do with google or openess. it is the carriers restricting access to the apps. This is the carriers and their policies. They see the apps as a threat to the plans they sell so they blocked them
---
more...
31595 - Sandy Wig - The Last
nah. they're just updating the mb/p line
---
sandy from grease.
GeoffRuth
Oct 19, 11:29 AM
Why on earth would anyone mark this as negative, unless they were a troll?
---
more...
Sheen as Sandy in Grease
aristobrat
Oct 6, 06:32 PM
I think the biggest problem is when Apple had the chance to change the game by not doing subizided cost they instead give in and just make it worse by forcing a much larger than average subsudize on there phone ($400 vs $250).

Unlock phones puts the network and the phone separete.
I'm not sure why you think Apple's original iPhone sales model was changing the game.

The customer paid the full price of the iPhone, the iPhone was still locked to a specific carrier, and the carrier agreed to pay Apple monthly for every iPhone customer they had.

On top of that, AT&T created a special, cheaper data plan to lure customers in, as the full-priced phone was very off-putting to some.

Sounds like the original iPhone ended up costing AT&T more than the subsidy on the iPhone 3G/3GS did.

And why did Apple change its original sales model? Because they weren't selling nearly as fast as Apple had hoped.

I agree with you that being able to buy any phone and have it work on any network would be awesome. Logistically, I just don't ever see it happening.
---
Ladies Sandy Grease Wig
Apathy would be not clicking anything.If I want to revert to apathy from a previously engaged stance, I can't. I have to actively disapprove or actively approve.
---
more...
Grease Sandy Costume Larger
"does your phone have a removable battery?"


um... yes. it's definitely removable. apple will happily do that over swapping the phone if it's required. i've had it done and it meant i could keep all of my data.

and yes, you could do it yourself if you bought a battery and had a screwdriver.
---
as Sandy From Grease
Wow, I just watched the keynote and my god this guy is hard to stand. I've watched previous keynotes and he never seemed this bad. The charisma he's displayed in the past has been replaced with smugness. He acted like the iPhone was the second coming of christ and we were so lucky that he existed to bring it upon us.

Yeah. I love the products but I loathe the man. Then again I'm just a regular user and not one of those scary MacDroids. You know, the ones with the blank stare, the ones that repeat mantras about Windows viruses and the dreaded blue screen of death... some even believe Windows gives you AIDS. They're kind of like scientologists or Jehova's Witnesses. But you gotta keep in mind those were the ones he was addressing, as always. Hence the smugness. The Keynote is his church and he is their god. Notice the constant applause and cheering over stuff like, oh, some new button or menu item. Mac will always be my second platform because these people just scare the poop out of me.
---
more...
30098 - Sandy Wig - Grease
Ok, so this is one thing people don't really talk about, but to be completely honest, why don't we just be honest here.

Loosing Denmark, or Norway or both, doesn't matter one bit. It is a courtesy that Apple even allowed these small and meaningless countries to join in on the fun.

Point is, that loosing Denmark or Norway, or both, doesn't play any roles here... They are no market for Apple. We have Denmark, who is 98% PeeCee users and are still allergic to change and everything Apple. So, with a population of roughly 5 million, and most people use, PCs, and their aggressive TDC (Local Telephone company/Internet Company) downloadable music campaigns came out a month or two before Apple was allowed into the country. Conveniently they got a head start, no one talks about how TDC was blocking Apple from getting in.

Now, Apple users have just recently started to grow in Denmark, and if I say that the total Mac User community in Denmark is 25.000 people, then I am being optimistic at best. Out of that 25.000 a good 10.000 to 15.000 users don't have a modern mac, or don't even have broadband and don't surf the web like others, or rather, they are not part of the iLife community that has spawned an entire culture, thanks to Apple.

Then we have a few the 10.000 or so who actually have a current mac and do use all the tools and apps in the iLife community. But not all download music, so if we say that 5000 people actually buy music from iTunes, then is a minor miracle. A song on iTunes costs you $1.37 and then you actually need an iPod too, so let's throw that into the equation too. How many currently active iLife / iPod users are there really? Not a heck of alot. The iPod is not cheap in Denmark and songs are not cheap either.

People might have tried to buy a few songs from iTunes, but don't count on people actually building their library up with songs purchased with music from iTunes.

So, in the grand scheme of things, loosing 5-10.000 customers (being optimistic here and I am not even saying they are reoccurring users) for Apple doesn't mean a thing. New York has more inhabitant than Denmark...Ohh I don't know, say, 4 times more?

NEW YORK (Population 19,227,088)
http://www.infoplease.com/ipa/A0108252.html

DENMARK (Population 5,450,661 -the entire country-)
http://www.infoplease.com/ipa/A0107460.html

NORWAY (Population 4,610,820 -the entire country-)
http://www.infoplease.com/ipa/A0107851.html

SWEDEN (Population 9,016,596 -the entire country-)
http://www.infoplease.com/ipa/A0108008.html

New York makes up these three countries and no, not the entire State buys iTunes, but then neither do, these three countries...

So, the entire US, Canada, Asia, Australia and parts of Europe.. Do, you really think, Denmark makes an impression? Or Sweden and Norway for that matter?

Honestly, they are full of them selves, and they are MS friendly, always have been and always will be... That is their way... It won't change, creativity doesn't live these places.

The fact that these small countries yell so loudly has to be because they don't have anything better to do with their time and money.

So, for those who really think, Apple should give in, to these spoiled nations... Think again... Apple would benefit from leaving these countries, and let them enjoy whatever they want to enjoy.

TV shows, in those countries? Well I can only speak for Denmark, as I am stationed here... With their perverted Laws... That won't ever happen... Something called CODA and License, are the real pirates of those countries.

These countries simply didn't deserve to have Apple even thinking about giving them a piece of the fun...
---
Sandy from Grease
MacTraveller
Oct 4, 08:15 AM
If I were CES management, I'd ban them for life. Can't imagine Apple will let them anywhere near Moscone.

It's not up to Apple. It's up to IDG. They manage the expo, they administer the expo on behalf of Apple.
---
more...
Sandy Wig From Grease
Link?

This is the first I've heard the story put that way. I've many times heard it said that Apple has kept versions of the Mac OS running on different CPUs in their labs, especially since the switch to OS X. Do you have any evidence to back up your supposition?http://lowendmac.com/orchard/05/0613.html
---
2004 - Sandy (from Grease)
backsidetailsli
Jan 9, 06:44 PM
im still not getting it!
---
more...
Grease Sandy Costume - Adult
I'll buy one when it gets a capacitive pressure based screen/stylus (Like the HTC Flyer)

Well I guess you won't be buying one then. Good luck with your HTC Flyer ( whatever th hell that is)
---
Costume Sandy Grease Last
ten-oak-druid
Apr 8, 05:36 PM
Once I went to Best Buy to get a toslink cable with a mini plug end for my macbook. The employee in the department asked if I needed help. I responded that I need a toslink cable with a miniplug end rather than the regular. The employee in charge of the cable section had never heard of such a thing. I described it but the employee had this look that suggested I was confused. LOL

Local retail would be worth a little extra cost if employees were actually trained to be knowledgable in the products. That would require paying decent wages to knowledgable staff. Sadly the retail outlets like to charge more and pay minimum wage to people who are expected to know the location of items on shelves and that's it. Most of the employees in Best Buy that I've encountered could have been replaced with grocery store clerks and the service would be the same. I'm not insulting the workers. Just pointing out the expectations of the clerks in these places. And of course if you want employees to be interested in the product line more, they should be paid more.
---
Finale, Sandy in Grease
Because a huge amount of the reported details on this matter are wrong.
While the method of storing the cell location cache may show poor judgment on Apples part, I don't see any malicious intent. The system is logical implemented and on the surface, cell location data does not appear sensitive enough to justify encryption. It is only after further analysis that potentially sensitive data can be inferred.
Regardless it's good to see it being addressed.

I am glad they are addressing it as well; however...Apple's response to this issue has been somewhat confusing (and begs the question as to why they needed that much data and why it was not encrypted properly). Ill be first to say that it most likely is and was just a dumb move on Apple's behalf...

My greater point was, that folks seem predisposed to trust Apple's decisions on EVERYTHING. I mean, just look at threads on apple's decision not to include specific HW in their systems...no BluRay, no res bump on recent 13 MBP refresh (even though the previous Air has a standard 1400x900 res), poor GPU selection in iMac, Antenna Gate, Apple's disproportioned profit margins...All this is perpetuated and supported by "Apple Fans". The reasons are "Blu Ray is a dying format, and Apple is actually doing us a favor by not including it" (WTF?)... "The 1280x800 screen on my 13MPB is fine, people need to stop whining for things they dont need"..."Wow! they gave the iMac a 5750! Finally some powerful graphics!"..."Youre holding it wrong"..."Mac's cost more cause theyre just so well built". Its like some Apple fans will think of anyway to spin an Apple decision as "they know whats best for us".

Were taking a beating with a smile, then remarking on how wonderful and magical it was.
---
Rodimus Prime
Oct 6, 02:22 PM
It was a good message until they stated "Before you pick a phone, pick a network." That would be valid in an iPhone-less world. They would still be selling us phones based on a spinning CGI rendering of a phone's outer shell. "Look! A plastic candy bar! You like candy, don't you? Then you'll love our rectangular phone! Brand new features like rounded edges and three colors!"

Apple changed the game. The device should now be the focus. The service should be an afterthought in the background.

No the add is right. To many people drool over apple so they go with ATT. If you picked AT&T for the iPhone and knew the service was spotty in your area you loose all right to complain about it.

The smart people out there first pick a network that offers them the price they want and the coverage. Then your worry about what phone to get. The iPhone is not game changing and it sure as hell is not THAT much better any more with all the other phones hitting the market.

As for the add that was the exact reason why I left them. Verizon had crappy service out in Lubbock Texas and lied about them moving there network out there. They told us 6 months and that 6 months claim turn was not filled 4 years later of course I left at the end of the first year when my contract was up. I switch to AT&T because service was great there and in Houston so I choose them. I choose a network that works were I lived and spend my time.

They are correct choose a network then worry about your phone. Apple Fan seem to not understand that.


I have lived in 4 different rural markets and regularly travel between them. Currently, in NC, Verizon is everywhere since they bought out a couple providers like Rural Cellular and I forget the other one.

When I left Verizon, they had full bar 3G coverage at my house. They had just upgraded about 3 months before I went with an iPhone. With AT&T, I need to drive almost 20 miles to even find 3G coverage.

With Verizon, I had a Palm Treo 700 and it was very rare to see even the analog signal at all.

If Apple would make the iPhone for Verizon, i'd switch back in a blink, even if I had to pay early termination, it's that bad. I typically lose between 20-40% of my calls. There is several dead zones too, that I can't even drive down without losing it.

Well sorry you have no right to complain your dropped calls. You CHOOSE to go with AT&T for the iPhone knowing these problems are in your area. You ACCEPTED that as part of the problem. I recommend you go back to Verizon as soon as your contract is up.
The iPhone is NOT that great. Good phone but not some super phone that is poor local network.
---
---
MattSepeta
Apr 27, 12:50 PM
Wow. It's clear you have no intention of learning anything. You just want to be right. Nice. :rolleyes:

What should I be willing to learn? That some people feel with every inch of their being that they were put in the wrong body?

I fully understand that and I am not about to argue it. I believe they deserve every right any other person is entitled to. I believe they are born this way and it is not a choice.

So what am I hesitant to "learn"?
---
Your damn right I do, I've kicked people out of stores before for being rude to employees, shouting at each other, behaving inappropriately and refusing to respond to reasonable requests.

If people started fighting in my place of work i would absolutely get involved, probably starting with dumping a bucket of mop water over them.

I've broke up a fight between 14 and 15 years old siblings while I was teaching a ski lesson. And I wouldn't have hesitated if it had been two 20 year olds.

When did we become so bloody apathetic and wimpy that were afraid of breaking up a fight between a group of girls. As far as I'm concerned I could give a damn about trans gender or not.

If you work somewhere you have a position of authority and that makes it your job to protect all people in your store, sack up and diffuse the situation.

What would we have them do? They didn't have time to do anything? According to the report: "These employees can be heard on the video shouting words of encouragement to the attackers." Sounds like they had more then enough time to figure out what was going on and acted on it. Do you like what they chose to do?

I didn't watch the whole video, but from what I watched, they were standing around and laughing.

Again, they should call the cops and NOT get involved.

They are hired to flip burgers, not stop violence. If you want your employees to stop a fight, hire an armed guard.
---
macenforcer
Nov 23, 05:56 PM
You would be better off getting an ipod from Target with the 10% off for getting a target credit card. Apple sales suck.
---